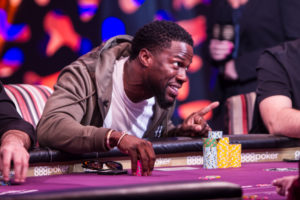 Philadelphia-born Kevin Hart is a highly successful stand-up comedian, actor and producer, arguably best known for playing high school security guard Ben Barber in the Universal Pictures comedy film 'Ride Along' in 2014 and its sequel, 'Ride Along 2', in 2016. However, notwithstanding his loss, on a points decision, to underdog Antonio 'The Magician' Esfandiari – a three-time World Series of Poker (WSOP) bracelet winner – in a three-round boxing match in April, 2019, Hart does have form against professional poker players.
Indeed, at the last count, he had just shy of $48,000 in live earnings, just over $20,000 of which he collected for winning the Larry Flynt's Challenge Cup at the Hustler Casino in Gardena, California in 2010. In recent years, Hart has been a regular participant in PokerStars Championship events worldwide, including in the Bahamas, Monte Carlo and Barcelona.
In the PokerStars Championship Cash Challenge at Monte Carlo Casino, which aired on television in January, 2018, Hart misread his hand, possibly mistaking the three of spades for the jack of the same suit, which would have given him a straight. Consequently, Hart re-raised his opponent, qualifier Mila Monroe, on the turn and called her all-in bet on the river, despite holding only king-high. Miraculously, for Hart, Monroe was bluffing, with only six-high to show, so he 'accidentally' won the pot of €40,000. Although strictly against the rules, Hart returned €15,000 to Monroe, without complaint from the other players, who included Team PokerStars professional Daniel Negreanu, so that she could continue playing.